November 30th, 2011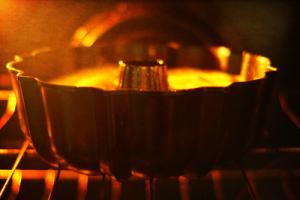 My grandmother's recipe...

Mildred's 7Up™ Pound Cake
3 cups all-purpose flour, sifted (Gluten free flour replacement may be substituted.)
5 eggs
3 cups granulated white sugar
1 cup butter OR 2 sticks butter, softened
1/4 teaspoon salt
1/2 cup vegetable shortening OR 1 stick margarine
1 1/2 teaspoon vanilla extract
1/2 teaspoon lemon extract (add up to 2 tablespoons lemon extract to taste)
*1 cup 7UP™ (reduced to 3/4 cup if extra lemon extract has been added)

To create this cake successfully, please have all ingredients at room temperature before mixing.

Preheat oven to 325 degrees F (165 degrees C). Grease and flour 12-cup Bundt™ pan: Coat the inside of the pan with a thin layer of vegetable shortening or butter, followed with a layer of flour; do not use a spray coating. Not only does the grease/flour keep the cake from sticking when removed from the pan, but it also contributes to a wonderful textural crust on the outside of the cake.

Sifting the flour is important as it contributes to the smooth inner texture of this pound cake. Combine flour and salt in bowl and set aside. Combine remaining ingredients except cola in large mixer bowl; start with the sugar, butter and shortening, and then fully incorporate each egg, one at a time, then the extracts. Beat at medium speed until light and fluffy, scraping sides occasionally, about 5 minutes.

Reduce mixer speed to low; add dry ingredients and cola, beginning and ending with dry ingredients. Add to pan. Before placing in the oven, tapping the pan gently on the counter after filling with batter will encourage air bubbles to rise and escape if there are any. Bake 1 1/4 hours up to 1 1/2 hours or until a toothpick inserted in center comes out clean. Cool in pan 15 minutes. Invert onto wire rack; remove from pan, and cool completely. Makes 16 servings. This is wonderful glazed or plain, served with fresh or canned fruit, with ice cream... for dessert... for breakfast... with coffee or a big cold glass of milk...

* The recipe calls for 7Up brand cola, but any clear lemon-lime cola will be fine. The sugar in the cola also contributes to the crust; do not use a diet cola for this reason.